White Fillings
We always; wherever possible use tooth coloured mercury free fillings to restore your teeth, at no additional cost.
Veneers
Veneers are the perfect solution for creating a flawless smile. Thin layers of porcelain are bonded to the front of your tooth with minimal preparation, correcting crooked, broken, crowded or discoloured teeth.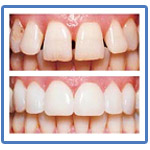 Crowns
These are the most common solution to repair broken or discoloured teeth anywhere in your mouth. Each Ceramic is custom made to restore your smile.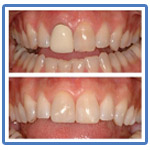 Bridges
Bridges can dramatically improve the appearance of your smile by replacing missing teeth.  The materials used to create the bridge are made to match the colour of your natural teeth, while providing comparable structural support.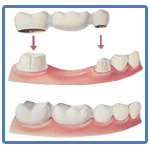 Inlays and Onlays
Inlays and onlays are made from porcelain, gold or composite resins that are bonded directly to the teeth. These materials are much stronger than traditional fillings and can help prevent further decay or damage.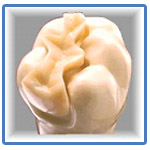 Implants
Implants are a stronger, more attractive option for replacing missing teeth.  The results look fantastic and feel completely natural.

Tooth Whitening
This is the most commonly used cosmetic dental procedure. By far the simplest and most popular is the Zoom! 2 Chairside Whitening System, a scientifically advance tooth whitening procedure, leaving your teeth up to 8 shades lighter!