Implants are a stronger more attractive option for replacing missing teeth.  The results are long lasting, look fantastic and feel completely natural.

Dental Implants are small titanium posts that replace the roots of missing teeth. Implants can be used to replace single or multiple teeth. In addition, they can be used to retain dentures and give incredible stability.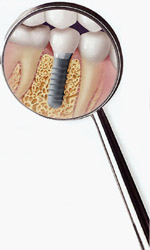 If you are considering a Dental Implant we believe that it is of the Utmost Importance to use a Specialist Team to provide you with the best looking and long term dental restoration.
Our principal dental surgeon Richard Simkins is qualified in surgical and restorative systems and has been restoring implants for over 10 years.
And our two associates Davina Rooney and Russell Davies are also fully trained.
Our Implantologist Professor Ucer. BDS, MSc, PhD.
A specialist Oral Surgeon and Hon. Professor of Dental Implantology, and has been working with us for over 20 years.
Our qualified laboratory technician Dean Gee, is one of a few select technicians to have a Straumann accredited laboratory, with platinum status. (only a few laboratories in England have been accredited with this status)
If you would like to discuss Dental Implant Treatment further please call our Receptionist on 0161 748 3378 to book a Free Consultation, or you can email us at simkindentalcare@btconnect.com.
We are now able to offer our Patients Interest Free Credit